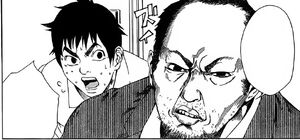 Naitou is the detective in charge of interrogating the kids in the hospital. He wants to know what happened and why. He appears to be rather harsh and arrogant, but
Yuu
makes him be quiet after telling him he'll die if he stays there.
He comes out later on in the manga dead on the floor, probably killed by Engacho.
Ad blocker interference detected!
Wikia is a free-to-use site that makes money from advertising. We have a modified experience for viewers using ad blockers

Wikia is not accessible if you've made further modifications. Remove the custom ad blocker rule(s) and the page will load as expected.