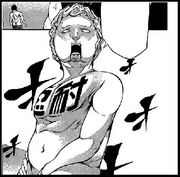 Shouben Kouzou is the fourth (official) game the surviving teenagers have to play. The term 'Shouben Kouzou' is Japanese for Manneken Pis, the famous bronze statue of a little boy relieving himself into a fountain basin in Brussels, Belgium.
About the game
Edit
Shun and his new team manage to get through the door and come out of a well inside the cube. The Shouben Kouzou awaits, telling them to go inside one of the houses they find and wait.
Inside the houses there are seven beds and rooms, plus food and anything they would need to live there. Suddenly, the cupid statues start making sounds and the door of their house opens. Amaya runs out, followed by his comrades. Both Shun's team and the other team are confused about what to do next, but Amaya pulls the rope he finds in the middle of both houses and wins the "tug of war". The other group are all killed.
All the teams must play until there are only two houses left.